Mental Golf Type®
How It Started
Meet John Weir.
Learn the MGT story.
What Really Set Things In Motion...
My passion and drive to pursue the creation of Mental Golf Type started back at the end of 2012 during a phone call I had with a professional golfer.  Little did I know at the time, that this phone call would change the direction of my work, my daily focus, and my life. 
Let's start with a little background. Paul was a very talented and successful D1 collegiate player who won 6 times and was an All-American all four years. When he turned pro, he missed out on the PGA Tour by 2 shots under the old qualifying system.  After missing the tour, professional golf became a struggle for him.  Things worsened to the point that he reached out to one of the top sports psychologists. 
During this conversation, the psychologist noticed a pattern and pointed out that Paul was constantly speculating about negative future outcomes and worry too much about what might happen on the course.  With good intentions, the psychologist told the player to re-frame his thinking and to start projecting positive future events and begin to anticipate good things happening.  Paul tried to implement this advice but ended up making only a few cuts in over 30 events.  In his last event before our call, He walked off the course and never turned in his scorecard. After a long conversation with his swing coach, he decided to reach out to me.
Before the call, I had him take a self-assessment, based on Jungian typology and used in corporate circles to help determine his personality type.  During the session he talked about the struggles he was having in his game.  Next, we went over his results which were ISTJ and as we went over his stress mode we both had an immediate "ah-ha moment."  For an ISTJ, the least developed mode of operating or their stress mode is called Extraverted iNtuition. Below is the description of it:
You are usually happy to be working in your area of expertise, but when in stress mode you are prone to see everything as a catastrophe. During these stressful times, you may become confused or come up with a string of theories about why things are not as they "should be." When this occurs, you worry about what went wrong, what might go wrong next, or come up with the worst case scenario. When stressed, you lose track of the details, stop trusting your instincts, and reel out of control. It feels as if everything seems to be going wrong and you cannot figure out where to turn or what to do.  
When Paul heard this he said, "It sounds exactly like what I have been doing. I have been approaching the game in stress."  And, in my mind, the link between personality, stress, and performance started becoming more clear.  We started working together and decided to devise a new strategy to utilize his natural strengths based on his personality type.  After a few weeks of fine tuning the strategy, Paul went on to make 5 consecutive professional cuts and had a 53 hole stretch in tournament play without a bogey.  Then, he got away from his strengths, got caught up in stress again, and missed 3 cuts in a row. We had a phone call the night before a big event, and discussed what to do to get his mind relaxed and play golf free of mental stress again. I ended the call by saying this, "If I told you that if you trusted 100% of everything we talked about, that you would win this tournament, would you do it?" He responded, "absolutely."
Here are his words describing what happened at the event:  "That 100% conviction went great for me the first 2 days. I put myself in contention to win my first professional golf tournament heading into the final day. Little did I know, my conviction was about to be put to the test. The final day started with a poised front nine scoring 34 without one blemish of a bogey. However, a quick bogey on the 10th hole jolted me into a sudden reality check. Was I going to be able to keep this spectacular play going? Could I avoid the treacherous water holes to come? Sudden flashes of my old way of thinking started creeping back into my head.  My racing mind had to be quieted and, at that moment, all my training set in. I had to trust 100% of what John and I had worked on. I had to conquer my mind. I knew I was the one that controlled my thoughts. I did a relaxation technique, known in the program as the 3-6 method. I immediately felt my racing mind and body begin to slow back down.
My confidence was coming back. I kicked that confidence into high gear with some positive self-talk and positive affirmations. In the matter of the 5 minutes between the green on the 10th hole and the tee on the 11th hole something changed within me that my playing partners failed to notice. I had become the master of my mind. I was now committing 100% to my hard work with John, on the golf course, for the first time. I was ready to execute great shots with confidence and win this golf tournament. I had 100% faith and trust that these strategies would work coming down the stretch. I proceeded to birdie 4 of the next 5 holes to catapult me into the lead. It was a lead that I never relinquished. There are defining moments in people's lives, and that was mine. That is a memory I will never forget. I will connect with those emotions and draw off of them the rest of my life."
In 2013, my wife and I decided to pack up our things and move across the country from Los Angeles to Orlando, Florida in order to carry out the research and development of Mental Golf Type in the center of the golf world at the time.  This was a massive commitment but the endeavor felt blessed from the start. We were able to find a home at Heathrow Country Club in Lake Mary, Florida which was next door to the Mike Bender Golf Academy, as well as lots of incredible golf courses. And, we were blessed to have 4 amazing coaches who were instrumental in the development of Mental Golf Type came into our lives. They are Mike Bender, Cheryl Anderson, Christa Teno, and Chris Hill.  We are forever grateful to these world class coaches for giving us an opportunity to work with their players over the years.  Through these four coaches, I was able to work with virtually every demographic of player from junior all the way to tour level. 
Working with the Mike Bender Golf Academy was a dream come true.  I was surrounded by world-renown coaches, highly motivated athletes, and conducted my lessons at one of the best golf academies in the world. During my time working with Mike Bender and Cheryl Anderson, I had the privilege of coaching their Elite Junior Programs, and many of the pros and amateurs that came through the academy.  Learn more about the Mike Bender Golf Academy and all the amazing things they offer by clicking here.
Seminole State College
Christa Teno is the head coach of Seminole State College Women's Golf Team which is a junior college in Sanford, Florida. The junior college setting was perfect for Mental Golf Type research since the players are only at the program for 2 years.  Each year at SSC,  it was a new team of girls, all with different playing backgrounds, and that came from all parts of the world. 
Christa Teno shares her experience with Mental Golf Type
Head coach of Seminole State College Women's Golf Team since 2006.

5x NJCAA National Champions, 5x Runner-Ups

2018 LPGA Coach of the Year
NJCAA Hall of Fame
Former LPGA Tour Player
My Time With Chris Hill 
Chris Hill is a former NCAA D1, D2, and D3 coach who I met during his time as an assistant coach of the University of Houston Men's Golf Team.  Chris applied the original Mental Golf Type principles with the team that year and they had the best season in recent history finishing 5th in the NCAA. Chris was selected as the NCAA Assistant Coach of the Year and as a Palmer Cup team coach after that season.  Since then I have been worked with Chris at all the various programs he went to.  Chris's situation was unique because he kept getting advancement opportunities and he ended up coaching several schools during the research and development of Mental Golf Type. This was another perfect opportunity to develop and test Mental Golf Type since we were able to apply the same approach to different men's teams, and mostly with inherited teams (meaning no recruiting for the first season).  Program after program, Chris Hill put MGT into effect and year after year broke school records. Listen to Coach Hill share his experience and successes using Mental Golf Type below.
Chris Hill shares his experience with Mental Golf Type
2014 Jan Strickland Award - NCAA Assistant Coach of the Year
Selected as a Palmer Cup Coach 
2018 Golf Pride Grips' West Region Coach of the Year
2018 Dave Williams Award Finalist - National Coach of the Year
On-Course Insights and Tournament Tested
Another important aspect of the R&D came from my time on the bag caddying for my students from juniors all the way to the tour level.  I have been fortunate to be on the bag for all the major tour Q-schools around the world, at PGA events, for a full season on the Korn Ferry Tour, Monday qualifiers, and countless mini-tour events. 
Caddying gave some of the best insights into how the different Mental Golf Type's performed under pressure as it provided immediate feedback, information, and direct player responses as it happened real time on the course.  Click Here to see a highlight of Austen Truslow, with me on the bag, at the Puerto Rico Open. On a sponsor exemption, Austen made a final day hole-in-one on the 16th hole and birdied the 18th to finish tenth and play his way into the Honda Classic.  Pressure cookers like Q-school and tour events were perhaps the valuable testing grounds of Mental Golf Type.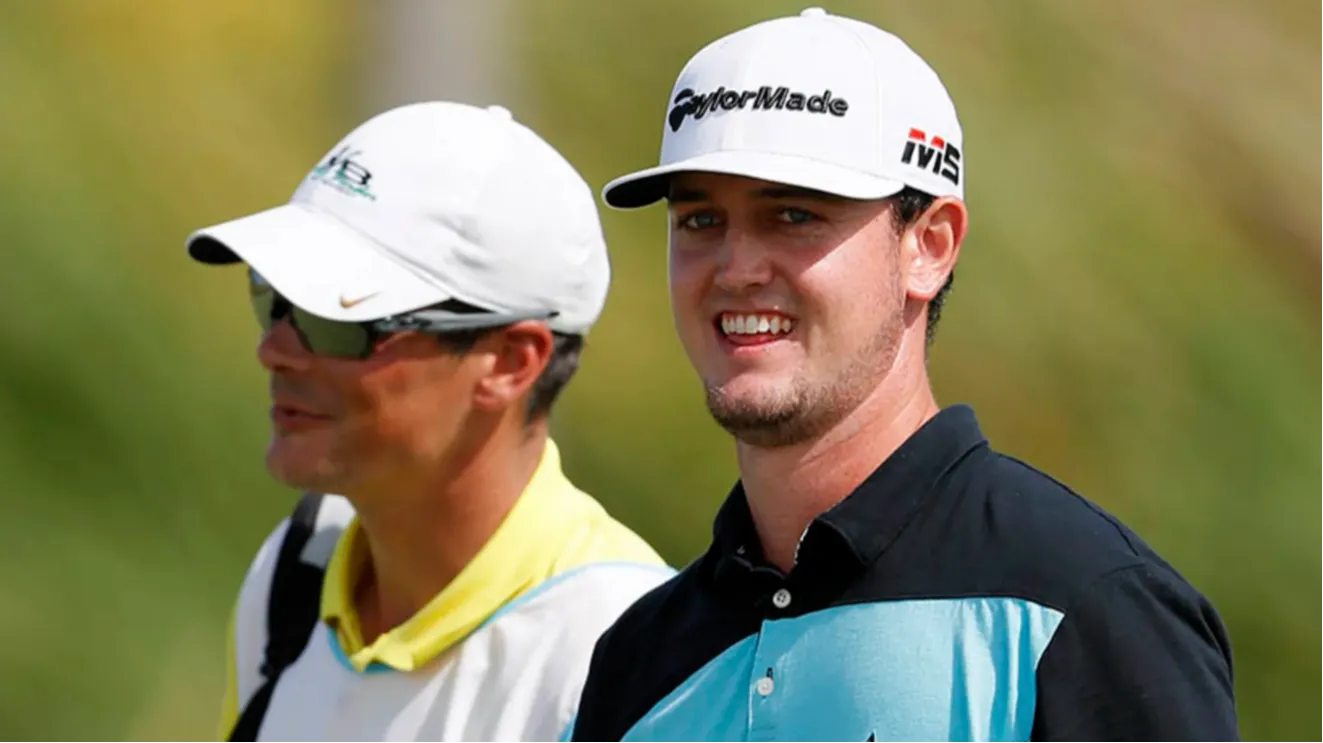 FocusBand Tested
In addition to caddying and testing Mental Golf Type concepts under tournament pressure, there was also extensive on-course work done with players using the FocusBand. A FocusBand is a headband device worn by players that measures mental activity during performance. 
Using the Focusband enabled us to see real time whether the player's mind was in a relaxed/optimal state or in an overly active/stressed state. Below are two examples of players applying their Mental Golf Type keys in their shot process using the FocusBand.
Bringing Mental Golf Type Online
One other important person in Mental Golf Type becoming available online and to more players is Kiel Alderink. At the time, Kiel was based in Illinois and during a dinner with Mike Bender and other coaches the topic of mental performance came up. Mike Bender suggested to Kiel to reach out to me as we were doing unique things at the academy.  Kiel did and eventually decided to come to Florida to shadow me while I worked with students.
After that initial meeting, Kiel and I talked from time to time, but it wasn't until Covid happened that our relationship really began to develop.  Kiel started calling more frequently and after several requests I began training him in Mental Golf Type. As we went through things, Kiel kept encouraging me to release the program saying, "this has to be made available to players...you have to put this online."
After some motivation, Kiel finally convinced me to release Mental Golf Type to the public. Since then Kiel has been instrumental in helping to build the website making Mental Golf Type more accessible to players around the world.  He has done an amazing job spreading the word of the impacts of stress in performance through media outlets such as PGA Radio Show "On The Mark." In addition, he has done a great job demonstrating the concepts in his lessons as seen on Quest to be the Best episodes on the MGT YouTube channel. Click Here to watch Kiel in action with his students.  Thanks to Kiel, more players and coaches have access to Mental Golf Type than ever before.
Happening Now
Currently at Mental Golf Type, we are pleased to announce that we are now Approved Educational Partners of the LPGA Professionals.  Now the MGT Certification program provides continuing education units to LPGA and PGA members. 
The Mental Golf Type app is now available.  Download it in your app store to access all the content from your phone. 
Mental Golf Type is now available in Italian. Visit www.mentalgolftype.it.
The French translation is now underway and progressing nicely.